Peer Advisors
Peer Advisors
Current Peer Advisors
Khadriya Baker
Peer Advisor, Fall 2016-Spring 2017
I'm a senior at George Mason University pursuing a BA in Integrative Studies with a concentration in International Studies. Having family members living in different parts of the world, I've always loved traveling and wanted to study abroad. Although my study abroad experience had a rocky start, things started looking up during the summer of 2016 when I got to attend the National Taiwanese Normal University. Before the start of my study abroad program, I also made a quick pit stop in the beautiful city of Istanbul, where I finally got trolled by a real life Turkish Ice Cream Man.

While I was attending NTNU, I also got to live in an international environment, full of wonderful students from all walks of life. It was fascinating having conversations about current events with such a diverse group of people and hearing stories from their points of view. Study abroad truly was an unforgettable experience. I enjoyed everything from eating at a toilet themed restaurant on my first week to taking a six hour bus ride to watch the magical sunrise atop Alishan (Ali Mountain) on my last week.
| | |
| --- | --- |
| Email | kbaker24@masonlive.gmu.edu |
| Advising Hours | Mon 11-1; Thurs 11-1 |
| Major | Integrative Studies (International Studies) |
| Minor | Chinese |
| Year | Senior |
Ashley Chapman
Peer Advisor, Fall 2016-Spring 2017
Hello! I am Ashley and I am a junior pursuing a degree in communications with a concentration in public relations and double minoring in journalism and photography. This past summer, I was blessed with the opportunity to experience the trip of a lifetime by studying abroad in Milan, Italy on the Italian Media, Society, and Culture program that is directed under the wonderful academic guidance of Dr. Wright. Throughout my time in Italy, I was able to gain skills through a variety of experiences that allowed me to develop my sense of identity by challenging myself and growing personally and academically as a result. I am excited to share my passion for study abroad with students and help guide other students in planning their own study abroad adventures.
| | |
| --- | --- |
| Email | achapma6@masonlive.gmu.edu |
| Advising Hours | Mon 3-5 |
| Major | Communications (Public Relations) |
| Minor | Journalism & Photography |
| Year | Junior |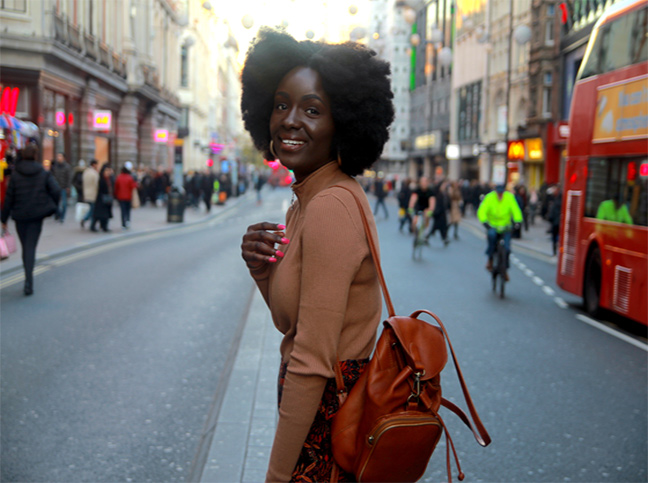 Bethel Domfeh
Peer Advisor, Spring 2017
I am a native of Woodbridge, VA and a senior at George Mason University pursuing a bachelor's degree in government and international affairs with a minor in middle eastern studies. I serve my community as a Virginia Girls State counselor in which I educate high school junior girls about the importance of civic engagement by guiding them through the state and local governmental process. I served as vice-president to the Bright Foundation, a non-profit where I developed policies and procedures to achieve the foundation's objective of supplying children in Ghana with educational necessities. I am a dedicated public servant as I have served within congressional offices in the Senate on behalf of the Congressional Black Caucus Foundation and the House of Representatives. I recently completed my fall semester as an exchange student in London at Westminster University.
| | |
| --- | --- |
| Email | bdomfeh@masonlive.gmu.edu |
| Advising Hours | Tues 2-3, Thurs 2-4 |
| Major | Government & International Affairs |
| Minor | Middle Eastern Studies |
| Year | Senior |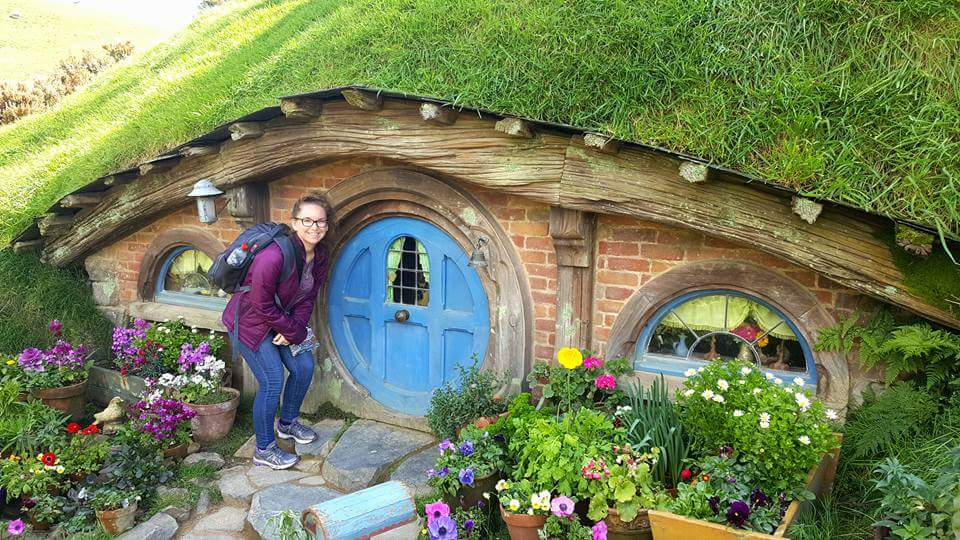 Taylor Gibson
Peer Advisor, Spring 2017
I am a junior at Mason and my major is Anthropology with a minor in Tourism and Events Management. I have traveled to 18 countries and studied abroad twice, once with Mason Korea and again in Sydney, Australia. I was lucky enough to be able to travel around while studying abroad which allowed me to see the Bamboo Forest in Kyoto, Japan, the Great Barrier Reef in Port Douglas, Australia, and the real life Hobbiton in Matamata, New Zealand. I love traveling and I love helping other people travel so I hope that I will be able to get other students as excited as I am about studying abroad!
| | |
| --- | --- |
| Email | tgibson6@masonlive.gmu.edu |
| Advising Hours | Thurs 4-5, Fri 3-5 |
| Major | Anthropology |
| Minor | MTourism & Events Management |
| Year | Junior |
Tiffany Kornegay
Peer Advisor, Fall 2016-Spring 2017
I am currently a senior at Mason as a Global Affairs major with a concentration in Asia and a Japanese minor. I was born and raised within Virginia and had never lived anywhere else until my study abroad programs. I studied abroad for about two years, spending my freshman and sophomore year at George Mason Korea in Incheon, South Korea. I then spent my junior year doing a direct exchange at Sophia University in Tokyo, Japan. I chose these two programs in order to more deeply understand what each country's community is like compared to what I have only known from all the way inside of America. I have done a couple of programs in high school including a culture exchange scholarship at Princeton University but I wanted to go abroad and see the real thing for myself. While abroad I studied both Korean and Japanese and I am continuing my studies to become fluent in both languages. I had nothing but good things come out of my time abroad, including expanding my friend group, becoming an independent individual, and also being able to adapt to any surrounding. My adventures will not stop there and I hope to visit many more countries in my lifetime. For now, I hope to encourage and instill passion in other Mason students to study abroad and enjoy the world for what it has to offer.
Tiarra Lowery
Peer Advisor, Fall 2016-Spring 2017
I studied abroad at Yonsei University in South Korea. I decided to study abroad there because I was interested in their communication style. Their music and dramas didn't hurt either. I had started to notice that there has been a growing interest in South Korea within the US. I was interested in finding out how an almost unknown country previously in the US (except for North Korea) was starting to gain some attention seemingly out of nowhere. I ended up learning a lot about the history while I was there.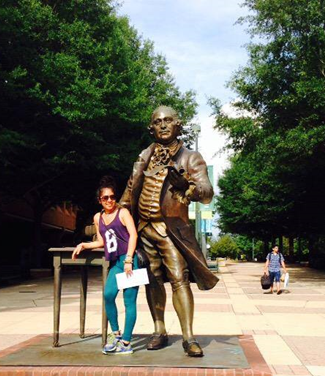 Juliana Marques Cabral
Peer Advisor, Spring 2017
I am Juliana Marques Cabral and I came to George Mason University through the Timor-Leste Hillary Clinton Scholarship Program. Timor-Leste is a country that is located in between Indonesia and Australia. It is a small tropical and underdeveloped country containing only 1.3 to 1.5 million people. In Timor-Leste I don't live in a city; I live in a village that is 8 hours away from the city and I grew up speaking only one language, had no electricity, no mobile phone, no computer, no television, no radio, and no internet. Despite the fact of me growing up in an isolated village with very few resources, the existence of study abroad has brought me to live in the nation's capital, Washington, D.C., and learning things that many of my friends and myself couldn't and can't access in my home country.
I chose to study abroad in the USA because of the great education program, to increase my cross-cultural understanding, and build my human capital. I have been here the past 3 and a half years, but before that I also studied abroad in Australia for over 2 years. Study abroad has shaped the way I am today. I am now able to do things out of my comfort zone – living independent, building my cross cultural understanding, increasing my human capital, and speaking four languages fluently. Because of these, I have become more confident than ever before. And because I am confident I am able to feel the freedom to do things that I love and not have my thoughts and belief influenced by the negative comments and bullies that surround me.
Growing up in such an isolated area has not stopped me from learning things outside of my comfort zone because study abroad exists. With this volunteer opportunity, I hope to inspire other students to experience what study abroad has to offer.
Caroline Stanton
Peer Advisor, Fall 2016-Spring 2017
Hi! My name is Caroline. I am from Virginia Beach, Virginia. I am a senior at Mason and I am majoring in Integrative Studies with a concentration in Advertising and minoring in Japanese. When I was 5 years old my family was stationed in Okinawa, Japan. While living in Okinawa we visited Singapore, China, and various places in Japan. My experiences abroad as a Navy brat greatly influence my love for language and culture. Since the end of middle school, I have been studying Japanese with a determination to become fluent. In the spring of 2016, I was able to study abroad for a semester at Soka University in Hachioji, Tokyo. While at Soka, I was able to make international friends, have a part-time job, improve my language skills, and better explore Japan's culture. Study abroad has given me the opportunity to grow as a person and to make everlasting memories. I hope to encourage and help others gain the irreplaceable experiences attained while abroad.
| | |
| --- | --- |
| Email | cstanto4@masonlive.gmu.edu |
| Advising Hours | Tues 11-2, Wed 11-12, Thursday 1-2 |
| Major | Integrative Studies (Advertising) |
| Minor | Japanese |
| Year | Senior |
Colin Virag
Peer Advisor, Fall 2016-Spring 2017
Hi! My name is Colin Virag and I just spent my last semester studying abroad at the Jonkoping International Business School in Sweden. While there I got to travel all over Europe, eventually visiting 12 countries in total with friends from all over the world. I spent time in Greece, Spain, Italy, Netherlands, Germany, Russia, and all over Scandinavia. The study abroad experience has been my most memorable semester yet and in my opinion if there is any chance to study abroad, you have to take it. It truly is an experience that you will never get the same chance to have again in your life.
Peer Advisors on Hiatus
Available for questions via email. No office hours
Brooke Finnicum
Peer Advisor, Fall 2016-Spring 2017
I am a junior pursuing a B.A. in communication with a concentration in public relations and a minor in tourism and events management. My passion for South Korean culture and language has led me to travel to Korea twice with plans of going back this spring semester. I studied abroad at the Mason Korea campus for one semester where I helped with social media outreach and acted as an Incheon Global Campus Reporter. I also participated in the International Public Relations in London winter program where I had the opportunity to visit top global public relations firms and gain valuable insight into the PR industry. Through my travels, I have gained a global perspective that has been valuable in my professional and personal life. I am excited to be a Peer Advisor at the Global Education Office (GEO) and I am also a sister of the Epsilon Pi chapter of Gamma Phi Beta sorority and a member of the Public Relations Student Society of America. As a Peer Advisor, I hope to instill a passion for studying abroad within other students.
Sam Peralta
Senior Peer Advisor, Fall 2016-Spring 2017
Born and raised in New Jersey, I came to Mason because I was attracted to the international diversity that surrounds the campus. During my second semester of my freshman year, I participated in a Mason study abroad program to Budapest, Hungary, where I studied at Eötvös Loránd University. While in Budapest, I also interned with the American Corner, an organization sponsored by the U.S. Department of State, which hosts programs highlighting American culture, history, and current events. Not only did I travel around Hungary, I took the advantage of being abroad to venture to other cities such as London, Rome, Berlin, Vienna, and Istanbul. Since studying abroad has made a huge impact on me, I hope to instill this passion in other students in helping them find their journey towards global education!
Lianne Weisheit
Peer Advisor, Fall 2016-Spring 2017
I studied abroad at Freie Universitat in Berlin, Germany. I chose to study abroad in Berlin because I wanted to learn more about Germany's role in the modern world and experience the excitement of Berlin's culture. While I was in Berlin, not only did I have the opportunity to explore other regions of Germany, but I was also able to visit 10 other European countries.

I have also traveled throughout Asia and Central America. My experiences abroad have made me very passionate about traveling. I am looking forward to working in an environment where I will be able to help others go abroad.